Church Event and Spiritual Retreat Venue
in Beverly, WV
Camp Pioneer: An Affordable Option in a Beautiful Mountain Location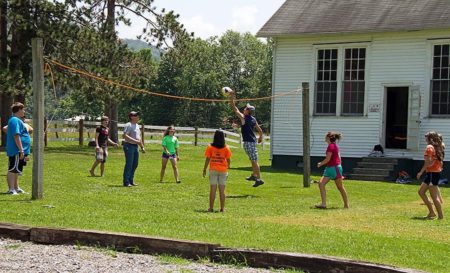 If your church group is looking for an affordable location to host your next retreat, picnic, camp, vacation Bible school, revival service, or other event, Camp Pioneer may be the perfect choice for you. Not only is the atmosphere absolutely beautiful and tranquil, but also the facilities are magnificently maintained. We have both indoor and outdoor options available. Camp Pioneer's staff can customize both indoor and outdoor locations depending on your group's overall goals. We are flexible and work with our guests to help them create a special and unique event that will be meaningful. From setting up small classrooms and enjoying a play on the stage to enjoying an evening bonfire around the council circle, we can help you create the perfect day, weekend, or week.
Church Camp, Lodging, and Activities in West Virginia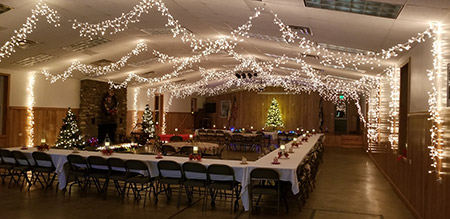 Camp Pioneer can accommodate your entire group at your choice of our campground (primitive tent camping and full electric/water/sewerage hookups for trailers and RVs are available) or our dormitory-style lodging (separated by gender). You are welcome to bring and prepare your own meals at one of our kitchen facilities or fire pits, or select one of our delicious on-site catering options. Our camp is located just a few minutes south of Elkins, WV, and an abundance of fun activities and adventures your entire group will love, no matter your budget.
Restore Your Spirit – Tranquil Christian Nature Retreat for Men and Women
Modern life takes a toll on all aspects of our well-being – particularly our relationship with God. It is so important to take time to nurture and lift our hearts in faithfulness and love. The natural wilderness in and around Camp Pioneer offers the ideal setting for a religious, spiritual retreat for both men and women. The perfectly tranquil environment set within nearly 100 acres adjacent to the one-million-acre Monongahela National Forest has long drawn those seeking a reprieve to reconnect or form a deeper connection with God and/or recharge one's connection with the divine while nestled within the breathtaking beauty of West Virginia's mountains. 


We welcome our Christian brothers and sisters of all denominations, as well as all faiths. We invite you to worship, praise, sing, pray, meditate, contemplate, and reconnect with your partner, your higher power, or the solitude of oneness within your own spirit. Ample areas for morning watch, praise services, Bible study, nature contemplation, reflection on the beauty of the Creation, artful expression, service, conversation, and fellowship exist at Camp Pioneer. Our Vespers area is a favorite amongst our retreat guests. Regardless of your own personal spiritual path, we are confident that you will find a deeper awareness and appreciation of Life through your reflections and experiences at Camp Pioneer.
To learn more or schedule your church event or spiritual retreat, please contact Camp Pioneer at: 304-636-3638.