Affordable Party & Reunion Venue Available for Rent
Camp Pioneer – Beverly, WV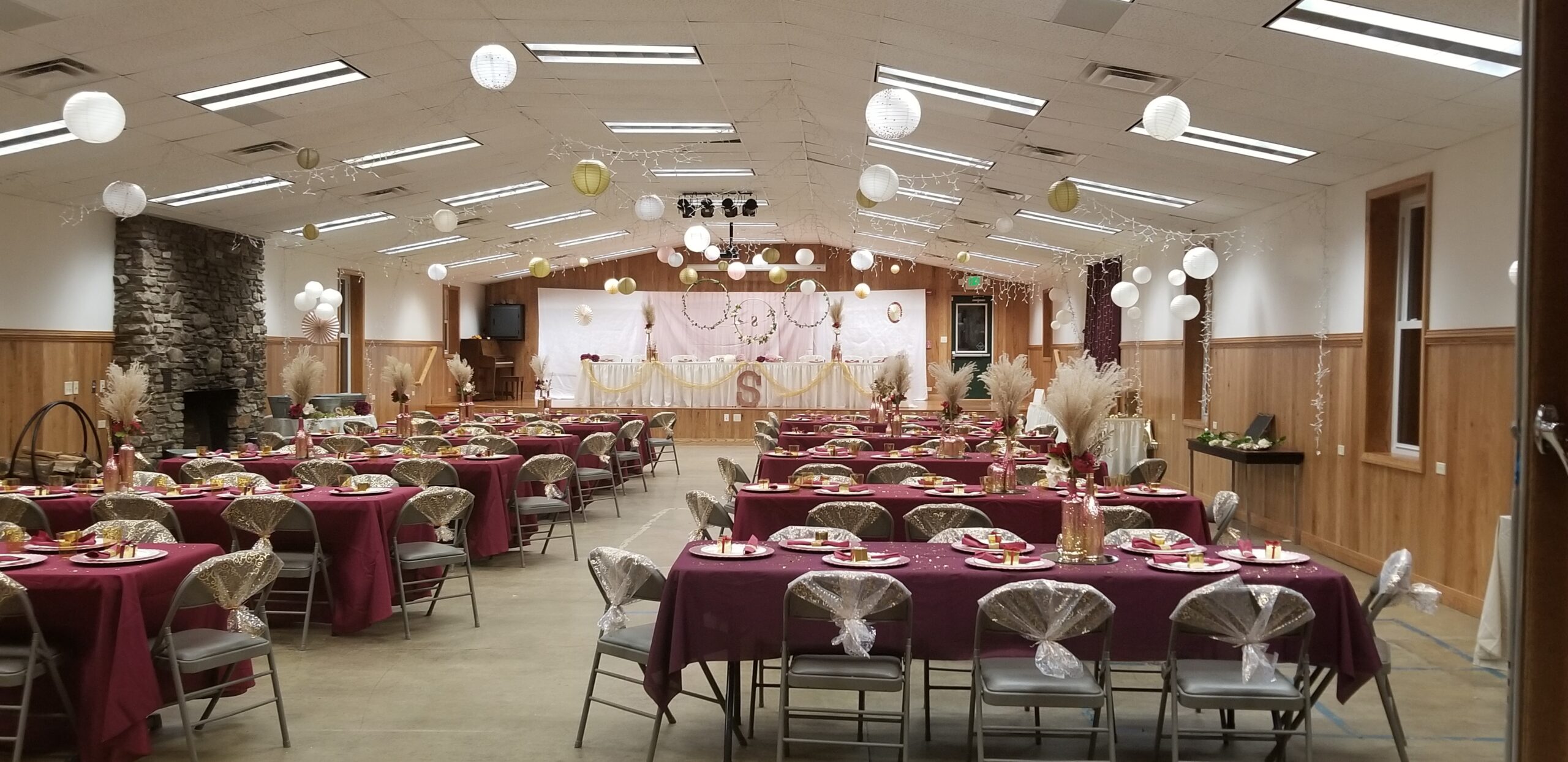 Whether you are hosting a local party or inviting friends and family to the area to mark a special reunion or celebration, Camp Pioneer offers everything you need to host a fun, stress-free, and affordable gathering for a few – or a few hundred. Located in the gorgeous mountains of Beverly, WV (just outside the Monongahela National Forest), our party venue offers a wide range of options suitable for every type of celebration.
Indoor & Outdoor Party, Class and Family Reunion Rental
For nearly 100 years, Camp Pioneer has been honored to host countless parties and class and family reunions. We have both indoor and outdoor options available and can work with you to help create the perfect party or reunion to suit your needs. We have several pavilion locations you can choose from, each with their own unique features and qualities. We can arrange for your party to be near our playground and fishing pond or near large open spaces for volleyball and bonfire capabilities. Camp Pioneer offers multiple indoor rooms and areas to choose from with both dining and entertaining areas. We can customize our rooms and open them up or close them down to provide the perfect amount of space for your celebration.
Banquet & Assembly Hall Rental for Parties in Beverly, WV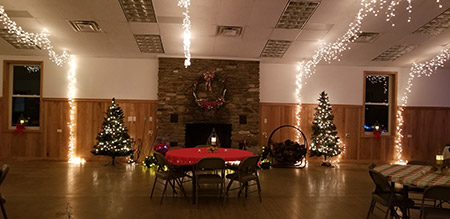 Our assembly hall is a wonderful choice for a wide variety of events that include dining and entertainment. Choose this amazing venue for a beautiful modern rustic-style setting that accepts all types, styles, and colors of décor wonderfully. Recently refinished with attractive wooden walls and amazing lighting options, your guests will appreciate the stunning beauty of the assembly hall for all your celebratory events. A fireplace, stage, sound system, and kitchen are available. You may also rent our dining hall, kitchen, or entire agricultural complex according to your preferences and number of guests. Add your choice of a la carte options to enhance your party or banquet.
Agricultural Complex (with kitchen) – Inside venue offering a traditional banquet hall-style setting for your reception. – $250
Dining Hall (seats up to 200) – $150
Dining Hall (Kitchen Use) – $100
Rent Dakan Arena for Large Parties
Planning a larger gathering? Our Dakan Arena offers over 3,000 square feet and can accommodate over 400 guests. The open pavilion-like architecture allows the breeze to flow through, yet protects your guests from the elements. A dance floor, stage, speakers, screens, mics, and other options are available.
Dakan Arena Daily Rental Rate – $500 (Friday, Saturday, Sunday); $75 (Monday, Tuesday, Wednesday, Thursday)
Dakan Arena Audio-Visual System Daily Rental Rate – included in the rental, however we need to know if the audio is needed.
(includes speakers, screens, mics, lapel mic, and phone connectivity)
Outdoor Pavilion Rentals
If you prefer an outdoor space, we offer three attractive outdoor pavilions: Shaver Pavilion, Laurel Pavilion, and our newly constructed Peg/Polly Pavilion.
Shaver Pavilion (Council Circle) – This outdoor venue in a beautiful country setting offers amazing mountain views overlooking farmland for a wonderful pastoral feel. Unlimited seating options make Shaver Pavilion ideal for weddings of all sizes from small to large. – $75
Laurel Pavilion (Pond) – Our most popular pavilion is located in close proximity to the ponds, fishing, and the playground with plenty of room for younger guests to run and play. Laurel Pavilion consistently books early, as it is ideal for a wide range of family-style events. If you would like to reserve Laurel Pavilion for your wedding, please consider making your reservation as early as possible. – $75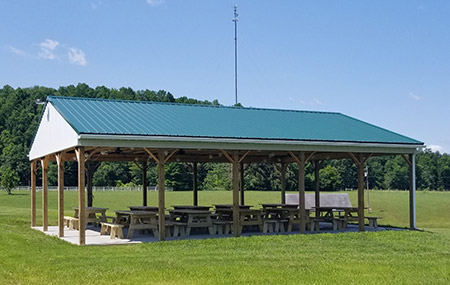 Peg/Polly Pavilion – Our Peg/Polly Pavilion is the newest addition to our outdoor venue options. Constructed in the summer of 2018, the pavilion offers seating for over 100 guests. Enjoy the ultimate in country charm with beautiful daytime and sunset views and a central fire pit ideal for evening weddings and comfortable night-time gatherings year-round. – $75
For more information, please see our Rental Facilities below. Catering, campsites, and lodging options are also available on-site. If you have any additional questions or would like to place a reservation, please call Camp Pioneer at: 304-636-3638.