Wedding and Reception Venue in Beverly, WV
Forever Begins In the Breathtaking West Virginia Mountains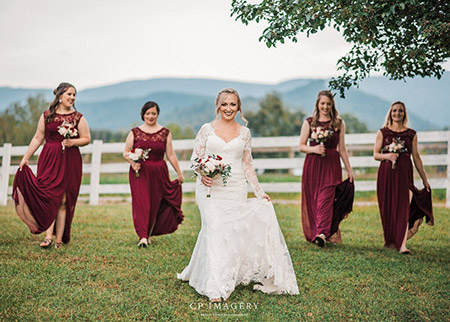 Are you dreaming of saying your vows underneath the glorious skies in the breathtakingly sublime mountains of West Virginia? Forever begins right here. There is a reason this region is known as "Almost Heaven" – As if God himself dipped his brush and personally created the landscape for your special day, the scenery is the perfect witness of your love. Choose from our selection of venues for both your wedding and reception at Camp Pioneer. We can take care of everything for you and your guests from hosting your special day to catering, lodging, and everything else you need to make it a day to remember forever. We are sure you will be pleased with our very reasonable rates and mountaineer hospitality. Let us help make your romantic mountain wedding the best day of your life.
View Our Wedding Gallery
Plan Your Beautiful Mountaintop Wedding Here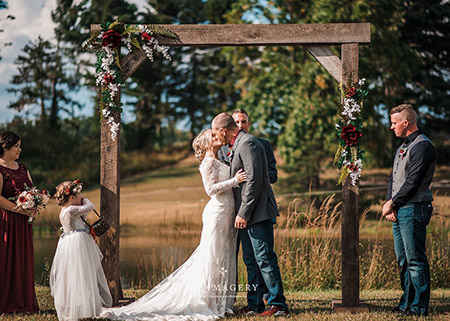 At Camp Pioneer, our facility has become very popular with locals, as well as guests from across the country and around the world who are planning a beautiful outdoor mountaintop wedding. We have the abundant space, buildings, and a wide selection of options to help you create the ideal celebration for your wedding and reception. We offer several fine options for you to choose from to exchange your vows and host your reception.
A Premier Wedding Destination That Won't Break the Bank
If exchanging your vows nestled in 40-year-old pine trees planted in the shape of a heart in Vespers Knoll appeals to you, we can help you create that magnificent moment. Maybe your dream is to exchange your vows on horseback. Most of our guests choose to walk our facility and get inspiration for their big day by looking around at the landscape to get a feel for which areas call out to them. We offer many options for small, medium, and large weddings. Ample parking and a wide selection of beautiful settings make Camp Pioneer the premier location to tie the knot without breaking the bank. We are happy to work with you to help you plan a remarkable event you will cherish. Would you like to set up a time to visit and tour our location? Our friendly and helpful team looks forward to assisting you in any way we are able. Please call Camp Pioneer's Wedding Planning line at: 304-636-3638.
Choose Your Perfect Wedding Venue
---
A la Carte Venue Options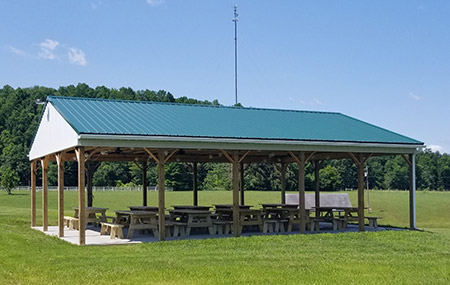 If the indoors really just isn't your thing, we offer several outside options for your wedding ceremony. Mix and match your ceremony site with your choice of reception site for total customization of your dream wedding. Combine any of our indoor and outdoor facilities for the perfect wedding of your dreams. Say your vows in the Vespers and follow up with a wonderful meal and reception in the Assembly Hall or any other combination you like. The choice is yours!
Peg/Polly Pavilion – Our Peg/Polly Pavilion is the newest addition to our outdoor venue options. Constructed in the summer of 2018, the pavilion offers seating for over 100 guests. Enjoy the ultimate in country charm with beautiful daytime and sunset views and a central fire pit ideal for evening weddings and comfortable night-time gatherings year-round.
Shaver Pavilion (Council Circle) – This outdoor venue in a beautiful country setting offers amazing mountain views overlooking farmland for a wonderful pastoral feel. Unlimited seating options make Shaver Pavilion ideal for weddings of all sizes from small to large.
Laurel Pavilion (Pond) – Our most popular pavilion is located in close proximity to the ponds, fishing, and the playground with plenty of room for younger guests to run and play. Laurel Pavilion consistently books early, as it is ideal for a wide range of family-style events. If you would like to reserve Laurel Pavilion for your wedding, consider making your reservation as early as possible.
Vespers – Beautiful 40-year-old pine trees planted in the shape of a heart surround this romantic outside venue. Seating at this location can accommodate over 250. The venue can be designed for a perfect intimate ceremony, as well.
Agricultural Complex (with kitchen) – Inside venue offering a traditional banquet hall-style setting for your reception.
Assembly Hall (seats up to 200)
Dining/Assembly Hall (seats up to 200)
---
Wedding Packages
Bronze Package: $1250
*Catering is not included in the pricing.
2‐day exclusive access to upper campus (beginning at 9:00 a.m. on each day) Audio
Visual
Kitchen
Decorative lights
Barrels
Tables
Chairs
Silver Package: $2500
*Catering is not included in the pricing.
Includes everything in the bronze package plus:
Cloth table cloths
Chair covers
Tie backs
Cloth napkins
Chair or bench setup and removal for ceremony
*Additional cleaning fees may be applied for large event or failure of the renter to clean up. The Camp Manager or designated staff member will approve acceptable clean up.
*Insurance is required if alcohol is present. Proof of insurance must be provided to the Camp Manager.