Camp Pioneer Summer Ox Roast
Each Summer in Mid-July the Randolph County Park and Recreation Board host an Ox Roast at Camp Pioneer. The first Randolph County Camp Pioneer Ox Roast was held in 1963 in conjunction with the West Virginia Centennial celebrations. The Camp Pioneer Ox Roast tradition grew from humble beginnings. Originally, a hand-dug pit – three feet by five feet and three feet deep (3'x 5' x 3') – was constructed for the ox roast two days before the event. In 1987, after 24 years of hosting the roast in a hand-dug pit, volunteers determined to improve the event built a firebrick-lined concrete pit. A crew led by Jim Roth dug and laid firebrick. Frank Santymyer's concrete crew poured the new pit. Young men from the Governor's Summer Youth program backfilled and landscaped around the new pit. Today, as it was back in 1963, the fire is built the evening before the event and monitored all night with a dedicated crew of volunteers.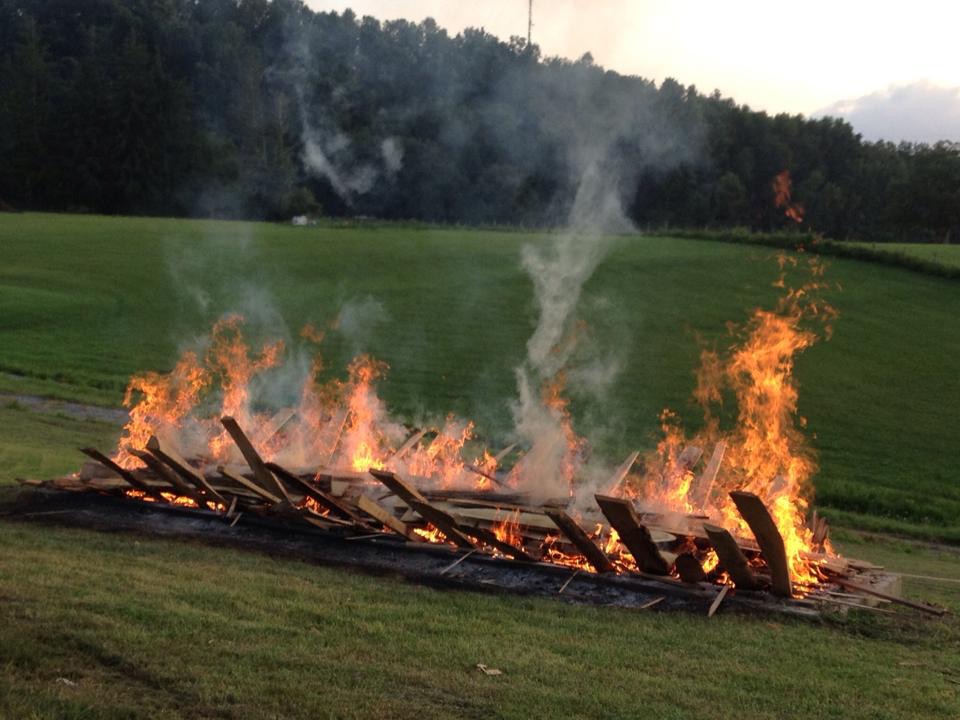 Early in the evening on the day before the event, a fire is stared using only dry hardwood. Over the course of the evening, two feet of hot coals accumulates and is covered with one inch of sand. Choice rounds of beef seasoned with special spices are wrapped in foil, then in muslin, and placed in the pit. The pit is then sealed with sawdust. Over the course of 12-15 hours, a temperature of 160 degrees F is reached. The meat is cooked at 160 degrees F for approximately three hours. Volunteers monitor the cooking temperature of the pit all night. On the afternoon of the event, the meat is removed from the pit and sliced just moments before serving. It takes several volunteers many hours of work to successfully host the ox roast.
Revenues from this fundraiser are used for improvements at Camp. Tickets may be purchased in advance or on site for dine-in or drive through dinners. Meals are prepared at Camp. Tickets are available at many community businesses or the Randolph County Extension Office.
Ox Roast tickets:
Two sandwich meal is $12
One sandwich meal is $8
Includes: roast beef sandwich, baked beans, cole slaw, dessert.
Drink included if you are dining in.
Bulk Roast Beef on sale for $10.00/lb. upon availability.