Special Event Rental Facilities
in Randolph County, WV
Host Your Party, Church Retreat, Concert & Ag Events at Camp Pioneer
Are you looking for an attractive, well-maintained facility to host your special event in Randolph County, WV? Camp Pioneer in Beverly is situated in a beautiful rustic country/mountain location adjacent to the Monongahela National Forest and offers a selection of affordable indoor and outdoor accommodations ideal for all types of public and private gatherings. Several of our facilities are new or have been recently renovated.
What Type of Event Are You Planning?
---
Rent a Building, Pavilion, Barn, or Banquet Hall – Affordable Rates!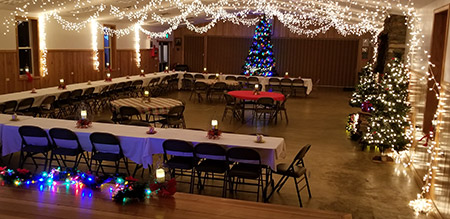 Camp Pioneer offers a wide range of very affordable rental options for our quests. We can easily accommodate everything from small gatherings, such as kids' birthday parties, to large regional events such as county fairs and concerts. Check out all available options below.
Outdoor Pavilions
Laurel Pavilion (Pond)
Shaver Pavilion (Council Circle)
Peg/Polly Pavilion
Vespers
Main Building: Kitchen, Dining Hall, Assembly Hall, Stage & Fireplace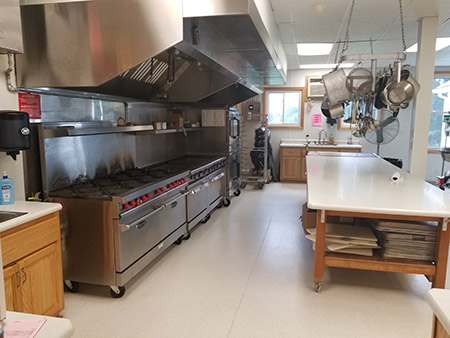 In our beautiful, recently renovated main building we offer a fully-equipped kitchen, dining/banquet hall, and an assembly hall with a fireplace and a stage. Its fine wooden walls decorate beautifully and it offers a wonderful, intimate feeling for your most important events. This modern rustic-style venue offers full state-of-the-art features for your event, including a stage, amazing lighting options (including spotlights), a full sound system with speakers both inside and out, available screens, and more, enabling you to create a truly amazing venue. When fully opened, our main building can accommodate approximately 600 people. This is our most popular choice. Our Assembly Hall is the perfect choice for any event!
Assembly Hall (seats up to 200)
Dining Hall (seats up to 200)
Dining Hall (Kitchen Use)
Ag Building: Kitchen With Concession Stand, Pavilions, Barn & Dakan Arena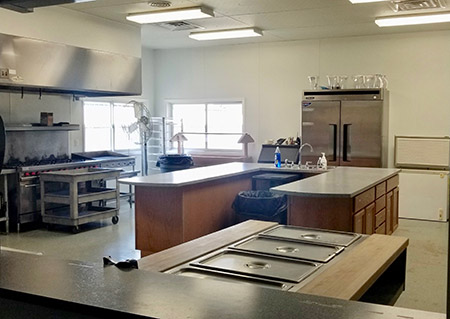 Our Ag building complex includes a fully equipped kitchen capable of operating a concession stand window and a meeting room that can accommodate over 120 people. A bathroom and shower room is also available on-site. We also have multiple outdoor pavilions and event locations to accommodate your event. In addition, our nearby barn is a superb location to host many larger outdoor events such as weddings, concerts, and livestock shows.
Business Meetings
Conferences
Club Meetings
Reunions
Parties
Retirement Parties
Church Groups
Agricultural Complex (seats up to 120) Four Hour Rental Rate Agricultural Complex – With Use of Kitchen Daily Rental Rate
Dakan Arena: Horse & Music/Live Event Venue in Randolph County, WV
The Dakan Arena is the area's preferred equine facility with complete accommodations for your horse-related event, as well as Randolph County's best choice for all of your music performances and live events. Our professional-grade audio visual system was recently upgraded to offer superior performance you can rely on. Outdoor barn stalls are also available. We have the space and facilities needed to help make your next event a success. If you would like to arrange a tour to look at what we have to offer, feel free to give our office a call.
4-H
Ag Events
Training Seminars
Horse Clinics
Horse Shows
Farm Shows
Parties
Dances
Weddings
Reunions
Corporate Events
---
Additional Facility Rental Information
Grounds Fee: A head/day fee will be charged to the event for any horse not using a stall. This fee is to be collected by the event and paid to the Board by the end of the event. Vendor Fee: a one-time fee per event per vendor, concessionaire or any other group offering items for sale at an event. Food vendors must provide copies of appropriate licenses or food handler's cards from the health department. Non-profit vendors must be clearly identified. This fee is waived for 4H groups. Vendor fee should be collected by the event and then paid to Camp.
Ticketed Events: An additional 10% of ticket sales will be charged to the renter for public events that sell entry tickets. (i.e., rodeos, concerts). Events expecting attendance over 500 must provide appropriate security and parking attendants at the renter's cost.
Insurance: Event insurance may be required. A copy of the insurance policy must be provided 5 days prior to the event to confirm the reservation.
Advertising/Promotion: Public events will be listed on the Camp Pioneer & Dakan Arena website, social media, etc. and provided to the Randolph County Convention & Visitors Bureau. Reservation / Cancellation Policy: Arena rental, barn rental and exclusive campsite rental must be prepaid 120 days prior to the date of event to confirm the reservation. No refunds will be made for cancellations within 120 days of an event. Facility may be reserved up to one year in advance. Checks should be made payable to the Randolph County Park and Recreation Board.
Security / Cleaning Deposit: A deposit will be required at the time of reservation for costs incurred due to cleaning. Deposit will be refunded after grounds are inspected by the manager.
Most of the frequently asked questions we get are answered as our guests fill out and complete the appropriate Rental Agreement Form for the facility. Please fill out as much information as possible and if you still have questions, our friendly staff will be pleased to assist you. (If there are two forms listed for your preferred rental, please complete both. If there are any discrepancies in price, policy, etc., please note that the Rental Form itself takes precedence.) We want you to be confident and fully informed. If we can be of assistance, please call Camp Pioneer directly at: 304-636-3638.
Rental Agreement Forms – Click Here
Alcoholic Beverages: Service or sale of alcohol is permitted by permit only. Appropriate insurance is required. No glass permitted on the property. A separate application is required, please contact the camp manager.
Application does not guarantee approval.