West Virginia Mountain Wedding Venue Facilities
Camp & Nature Themed Weddings – Complete Customization Available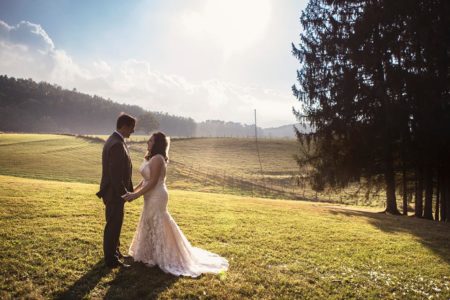 Camp Pioneer's facilities have become very popular with local and even out-of-state guests who are planning an outdoor wilderness, nature, or camp-themed wedding. Our barn and equine weddings are also a favorite. We have ample space, well-maintained buildings, and variety of accommodation options (including catering and lodging) to help you create an ideal celebration that reflects your personality and lifestyle.
View Our Wedding Gallery
Plan Your Secluded, Relaxing Wedding Celebration
Well secluded within over 97 acres of wild Appalachian forests and farmland, you and your guests will have plenty of room to roam, mingle, relax, and enjoy each others' company. Camp Pioneer has countless facilities and options for you to choose from to exchange your wedding vows and host your reception. For more information on planning and celebrating your big day at Camp Pioneer, please visit our Wedding Section or give our office a call.
Indoor & Outdoor Wedding Options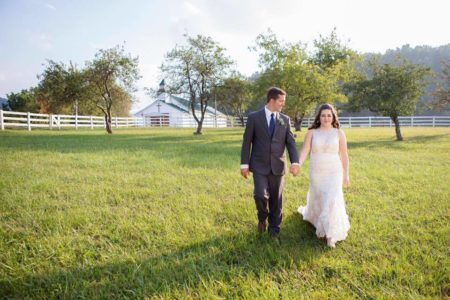 When planning your special day, you will want to consider all of the options available for you and your guests both on-site and off-site. Combine indoor and outdoor options for maximum flexibility. Camp Pioneer is the perfect country mountain retreat for both your wedding ceremony and reception – a favorite of wilderness and nature lovers for almost a century. The private, scenic location is perfect for photography, relaxing, and enjoying outdoor activities and attractions – and it is just close enough to enjoy every modern convenience, as well. It is easy to strike the perfect balance between organized group activities, independent pursuits, and leisure time.
Choose the Right Facilities for Your Wedding & Reception
Agricultural Complex: Kitchen With Concession Stand & Seating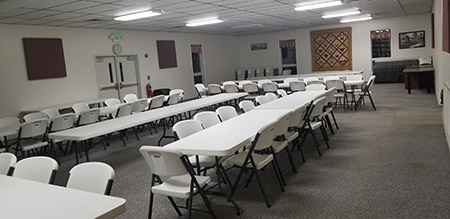 Our Agricultural Complex building includes a fully equipped kitchen capable of operating a concession stand window and a room that can accommodate up to 200 people. The daily rental rate for the Ag Complex is $250 or 4 hour rental for $100.
Barn & Dakan Arena
Our barn is a superb location to host your outdoor wedding. The Dakan Arena has the space and facilities for your horseback vows, country-style or equine-themed wedding. With its beautiful open pavilion-style architecture, Dakan Arena can easily host both your wedding ceremony and reception for over 400 guests. A stage, dance floor, and complete audio-visual system are available at this facility. Want to get the party started right? Go with Dakan Arena. The weekend (Friday, Saturday, and Sunday) rate is $500/day and weekdays (Monday, Tuesday, Wednesday, Thursday) are $75/day. Please let us know beforehand if the Audio-Visual System package (includes speakers, screens, mics, lapel mic, and phone connectivity) is needed.
Vespers Knoll
This romantic outside venue is a favorite location for couples saying their vows. It consists of a beautifully stately stand of mature pine trees planted in the shape of a heart. The layout is perfect for an intimate wedding ceremony and can accommodate over 250 guests. Vespers reservation is $75/day.
Laurel Pavilion
Laurel Pavilion is our most popular pavilion, located in close proximity to the ponds, fishing, and the playground with plenty of room for younger guests to run and play. If you would like to reserve Laurel Pavilion for your wedding, please consider making your reservation as early as possible. $75/day
Shaver Pavilion
Shaver Pavilion at Council Circle is a beautiful outdoor venue in one of our most picturesque country settings. Enjoy amazing mountain views overlooking the pastoral landscape. The unlimited seating options and configurations of this area make Shaver Pavilion ideal for weddings of all sizes from small to large. $75/day
Peg/Polly Pavilion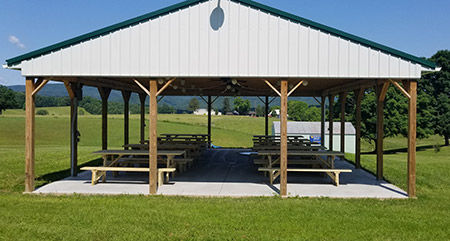 Our Peg/Polly Pavilion is our newest outdoor venue option. Constructed in the summer of 2018 to provide a spectacular seat to view the charming countryside and mesmerizing sunsets, this pavilion offers prime seating for over 100 guests. Enjoy the ultimate in rustic comfort and charm with the central fire pit. Peg/Polly Pavilion is the perfect addition for evening weddings. $75/day
We encourage all engaged couples to arrange a tour to look at what we have to offer. At Camp Pioneer, weddings are our favorite events and we enjoy assisting in any way we can. Please feel free to give our office a call with any questions you have or to place your reservations: 304-636-3638.
---